One more SQLSaturday done
I love SQLSaturdays, it's always a fun experience for me. Uhm, ok, maybe let me qualify that. It's always a nervewracking AND fun experience for me – when I'm speaking. I just always want it to be worth people's time to attend my presentations.
I think there was a good crowd at my session, and I'm quite happy to see they seemed to have fun too (I hope!) …
Btw I have a couple more presentations in the upcoming SQLSaturday#114 – on PowerShell, and on ETL Basics.
Here's a couple mementos for me to remember this day by. Thank you to everyone who attended, and spent their Saturdays with us …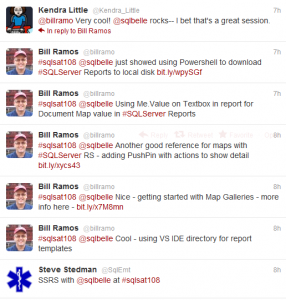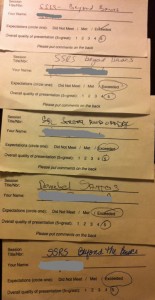 These are the files. If you have any questions about them, please feel free to contact me.
SQLSaturday108 Redmond – SSRS Beyond the Basics Presentation – Donabel Santos
SQLSaturday108 – Donabel Santos – RDL files
SQLSaturday108 – Donabel Santos – PowerShell Files
SQLSaturday108 – Donabel Santos – jquery point generator